• Your coffee is freshly roasted when you place an order. Unlike many other coffee roasters and online sites, we roast our coffee daily so that it is fresh. When you order, your coffee will be roasted and shipped the next business day to ensure you receive the freshest coffee possible. Other roasters pre-package or vacuum-seal their coffee; those coffees have been roasted days or even weeks in advance! Our coffee is heat-sealed in a valve bag, and here's why.

When coffee is freshly roasted, it releases carbon dioxide for up to 48 hours. If we vacuum-seal fresh coffee immediately after roasting, the bag will explode because there is no way for the carbon dioxide to escape. Each bag has a valve that only lets air flow one way. It releases the carbon dioxide without allowing any outside air to come into the bag, so your coffee is guaranteed to be absolutely fresh.

• We offer personalization on all of our standard labels; we can put your name on it! Since each batch of gourmet coffee is made to order especially for our customers, each bag will have your name—or your recipient's name—on it!

• Variety. Are you unsure which coffees your recipient would like? Give them a sampler or gift set and let them try several different kinds at once. We have options available for every taste and budget. Check out our large collection of coffee and tea gift sets.
---
FedEx Ground Shipping Map
CoffeeAM will make every effort to ship your packages in a timely fashion. To ensure that your shipment is delivered by your desired date, please refer to the shipping chart below.
Orders placed before 5:00 pm EST will ship on the following business day. In most cases, your coffee is roasted on the day that it ships.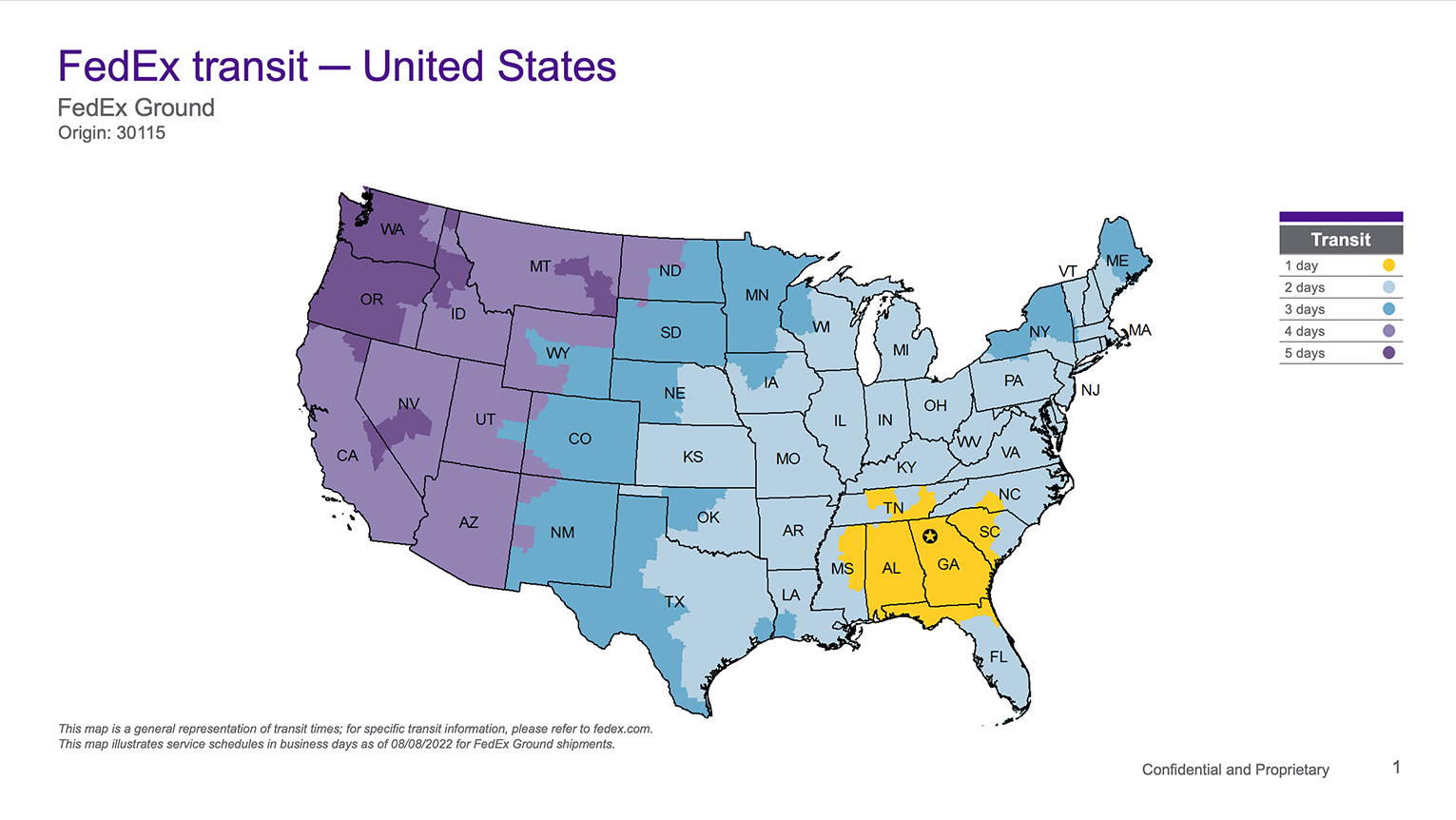 Expedited Shipping:
*Expedited shipments are not delivered to residential addresses on weekends, Monday-Friday only.*
---
Free Shipping Qualifiers
Minimum $75 order
Free shipping applies only to the coffee, loose leaf tea, and gift sets in your order*
Applies only to FedEx Ground Shipping to the contiguous U.S.
$7.95 Shipping Qualifiers
Minimum $10 order
Order contains only coffee, loose leaf tea, and gift sets.*
Applies only to FedEx Ground Shipping to the contiguous U.S.
*Regular shipping rates apply to non-qualifying items. However, if your order contains qualifying and non-qualifying items, shipping rates will only be calculated at the weight of the non-qualifying items and the qualifying items will ship at no extra charge.
*Qualifying Items include: coffee, loose leaf tea, gift sets, official CoffeeAM mugs, and EZ-Cup products.
---
Delivery dates are not guaranteed. CoffeeAM will make every effort to ship your package for delivery on the desired date, but there's only so much we can do once a package is in the courier's hands. We recommend that your order be placed with enough time to account for possible processing or shipping delays. Common causes for delays include inclement weather along the shipping route and high volumes during peak season
Please also note that this schedule excludes certain items. We cannot guarantee that Bunn or Capresso products will arrive per the schedule above as some of these items will be processed through separate warehouses.
***Any address changes received after a package has left our warehouse will incur a $10.50 charge.  
---
Although we do offer shipping to Canada, we do not offer the ability to recharge residents of Canada and therefore can not set a recurring charge for products or offer The Coffee Club to residents of Canada. We apologize for this inconvenience.