Are you looking to raise money for your school, church, charity, club, or any other cause? CoffeeAM's Fundraising Program is ready to help you raise money for your organization.

To get started, call 1-800-803-7774 or email us at fundraising@coffeeam.com.

(Parents, you know your child is going to bring home at least one fundraising form this year. Want one that your friends and coworkers would actually be excited to order from? Consider suggesting CoffeeAM to their school.)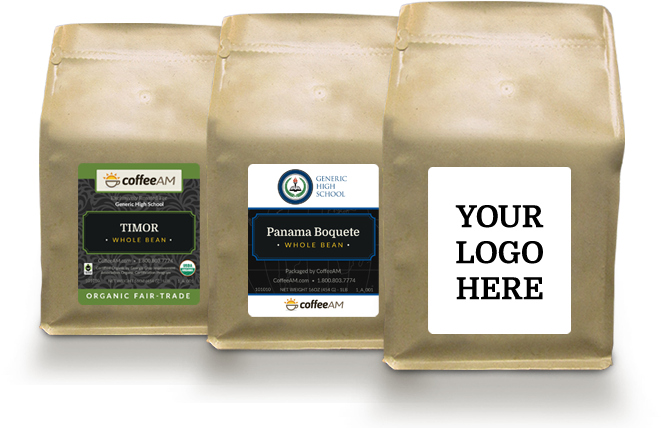 Why choose CoffeeAM for your next fundraiser?
Competitive pricing and profits! We provide a minimum recommended selling price to start from, but you can also set your own profit margins.
Easy to sell. Think about all of the people you know...how many of them drink coffee? Freshly roasted gourmet coffee (and tea) appeals to just about anyone. It's marketable, diet-friendly, and delicious...it practically sells itself! Don't be surprised if people come back asking about your next coffee fundraiser.
Your logo printed right on the label! Ask about our co-branding options.
(Due to USDA regulations, Organic Products are not available for co-branding and will come with USDA approved CoffeeAM labels.)
You choose what you want to sell. Our extensive catalog lets you build a fundraiser that works best for your needs. Need to limit caffeine? Choose from our decaf coffees or caffeine-free tisanes and herbal teas. Want Organic coffees? We have those, too. Gourmet coffee and tea make a great standalone fundraiser, but you could also include them as part of a larger campaign. Having a bake sale? Add some German Chocolate Cake Flavored Coffee to sell alongside it! Got multiple departments? Break them out into separate fundraisers where one sells regular coffees, another sells flavored coffees, and a third sells teas. The options are endless!
No waiting period. You don't have to wait for months to get the product. Once we've processed your finalized order, we can start production on the next business day.
No wasted overstock costs. Since you'll place your order with us at the end of your fundraiser, you only buy what you've already sold. (Unless you choose to get some extras, of course.)
Roasted fresh to order! Grocery store coffees can sit on the shelf for months before you buy them, but our gourmet coffee is roasted, packaged, and shipped out on the very same day. It's the absolute freshest coffee around!
BONUS: Your mailroom will smell amazing for the rest of the day!
---
Product Information:
You select up to 12 items.

Choose from any of the 1 lb coffees or ½ lb teas listed on our website.

All Coffees available in either Whole Bean or Drip Grind.
Decaf coffees and teas available.
---
CoffeeAM makes it easier by providing:
Ready-to-use order forms with your logo in PDF & Excel Format. Our order forms are designed for both print and digital uses. Your sellers can print them out and write in by hand or keep everything neat by filling them in Excel, whatever works for you.
(Student and Teacher versions are available as well.)
A promotional PDF flyer featuring the coffees and teas you selected, ready to print.

Note that these are provided as a convenience to help get your fundraiser going. If your organization has stringent brand guidelines, you can choose to create your own in-house documents.
---
Shipping:
Free shipping on orders over $100 within the lower 48.

All items will be shipped together as one order to your location.

Your organization will be responsible for distributing the product to each customer.
---
The Process:
Interested in fundraising with CoffeeAM? Great! We'll need some information from you to get things started. Please have your Tax ID on hand when you call or email us.

Once you're set up on our end, we'll provide you with custom order forms and a promo flyer to launch your fundraiser as quickly as possible.*

You set a time period and collect orders from everyone.

At the end, you count it all up and submit a single large final order to us. Once it's processed, we'll start production on the following business day. We require payment before processing, so we recommend that you collect money from your buyers ahead of time.

We send you the products so you can distribute them to your buyers.
Ready to get your fundraiser started?
Call 1-800-803-7774 or email us at fundraising@coffeeam.com
*New accounts will need to be verified before we can start your first fundraiser. Usually a Tax ID is enough.