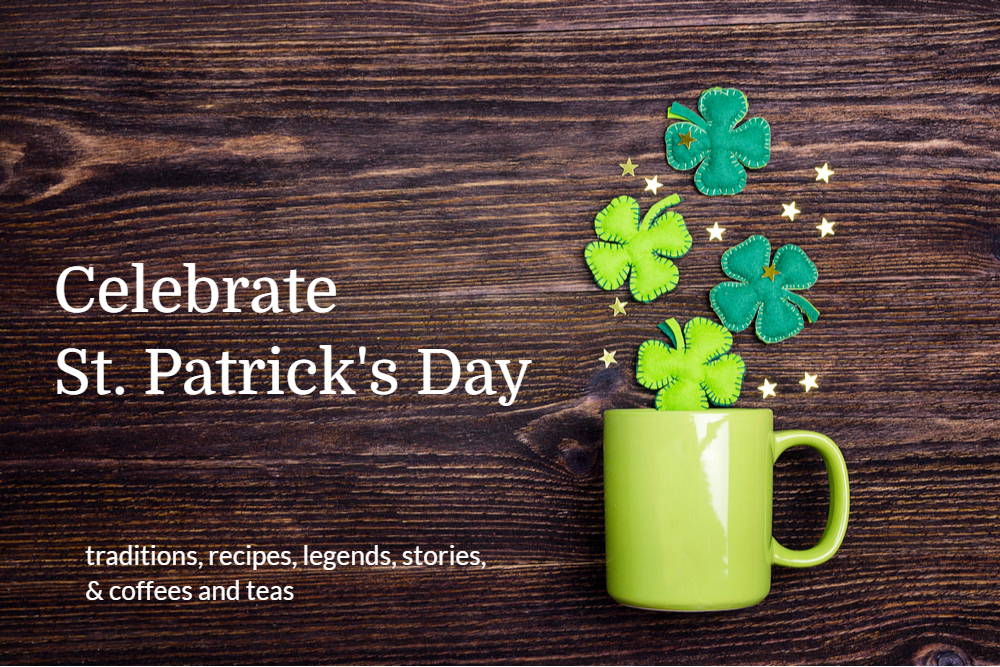 ---
Any day can be St. Patrick's Day!
Let's celebrate the Emerald Isle with some traditions, stories, and recipes.
Hit play on this Traditional Irish Music playlist and let's get started.
Everyone's Irish on St. Patrick's Day!
St. Patrick's Day means parades, music, stories, and celebrating. You'll need to fortify yourself to get through the day, so you'll have to get an early start. Mornings are meant for a strong cup of black tea and you can't get much stronger than Irish Breakfast Tea. Brewed dark and softened with a healthy drop of milk and a spoonful of sugar, Irish Breakfast Tea is a morning tradition that goes great with a hearty Irish breakfast. And what exactly does an Irish breakfast consist of? Sausage, bacon, black and white puddings, baked beans, eggs, tomatoes, mushrooms, and toast are sure to fill you up and keep you going throughout the day.
🍀 Don't forget your green! 🍀
Speaking of green, do you know why you're supposed to wear green on St. Patrick's Day? Well, the folklore goes that leprechauns pinch everyone they see but they can't see green. So, if you don't want to get pinched, you better wear your green!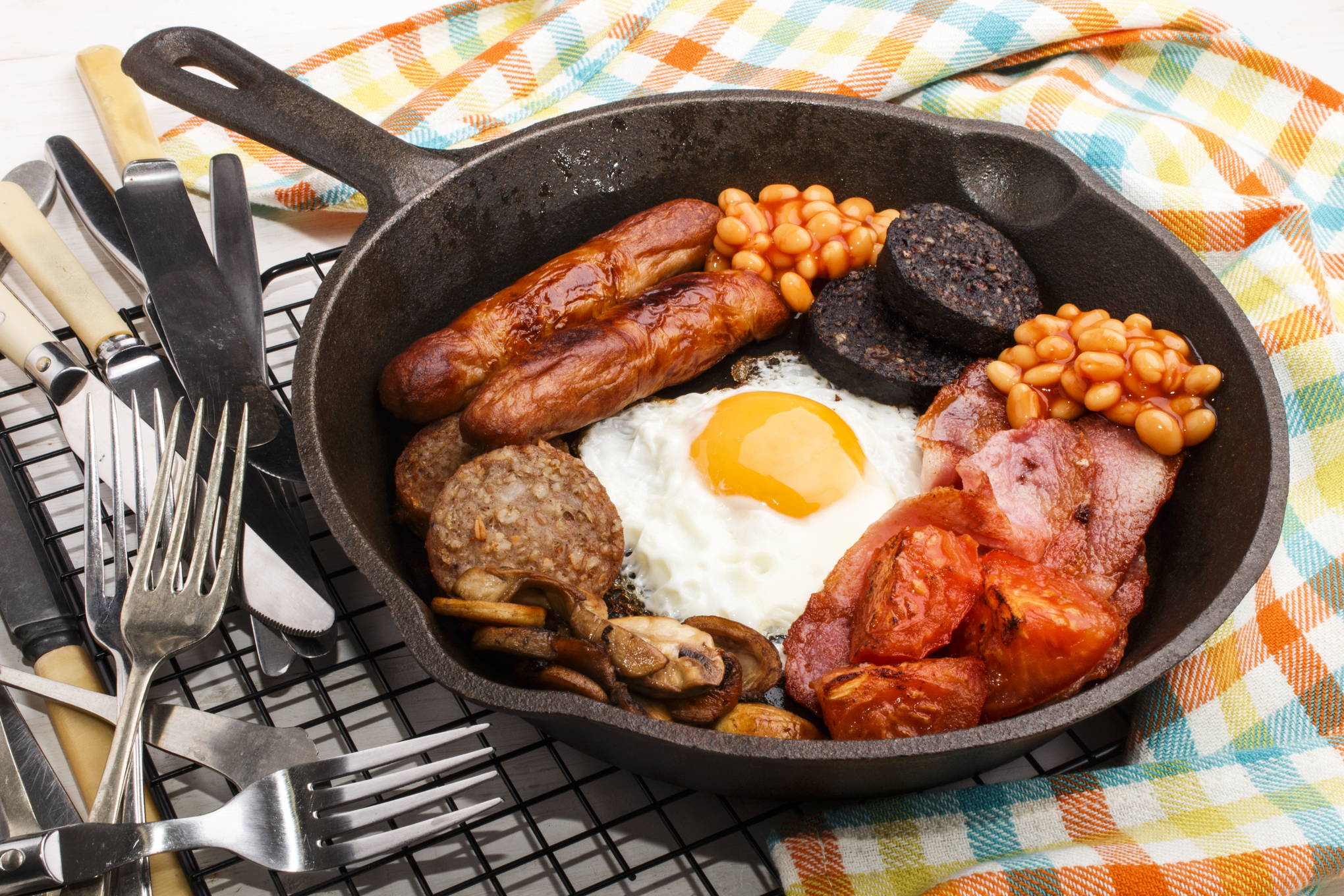 ---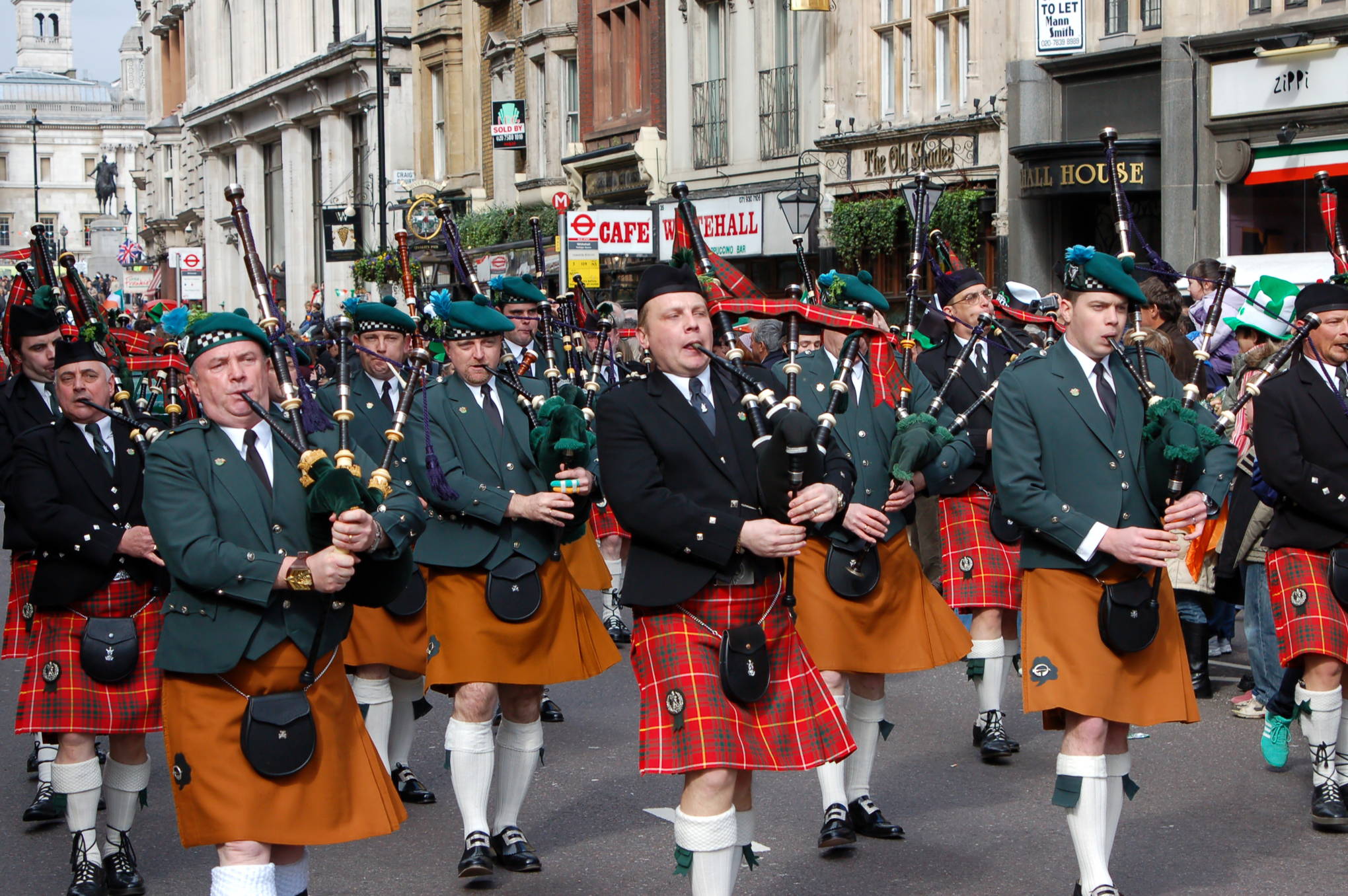 After a big meal, it's time to work off all those calories with a St. Paddy's Day parade. If you want to attend the oldest St. Patrick's Day parade, you'll need to head south to St. Augustine, Florida. In 2017, a historian found a document revealing the earliest procession to San Patricio (Saint Patrick) in 1600. Take that, New York, Boston, and Chicago!
Now, let's not disparage the northern cities too much. New York does have the largest St. Patrick's Day parade with 150,000 people marching and over 2 million watching! But the parade up Fifth Avenue isn't the only parade in the city. Dozens of smaller parades can be found all around the city including one in the Bronx.
In Chicago, not only do they celebrate with a parade, they also turn the river green! This tradition is continued by the Plumbers Union who use a dye that is typically used for finding leaks.
In Boston, the Irish have been celebrating since 1737. Up until the St. Augustine parade, the Boston parade was thought to be the first in America. Now, they might be able to still stake that claim as the St. Augustine parade was for the Spanish (hence the original San Patricio) and not the homesick and displaced Irish. But there's enough to go around right?
What will you see in an Irish parade? Bagpipers, Irish dancers, musicians, leprechauns, and floats. Enjoy!
Faith and begorrah, any day can be St. Patrick's Day!
Celebrate with one of these delicious coffees and teas.
---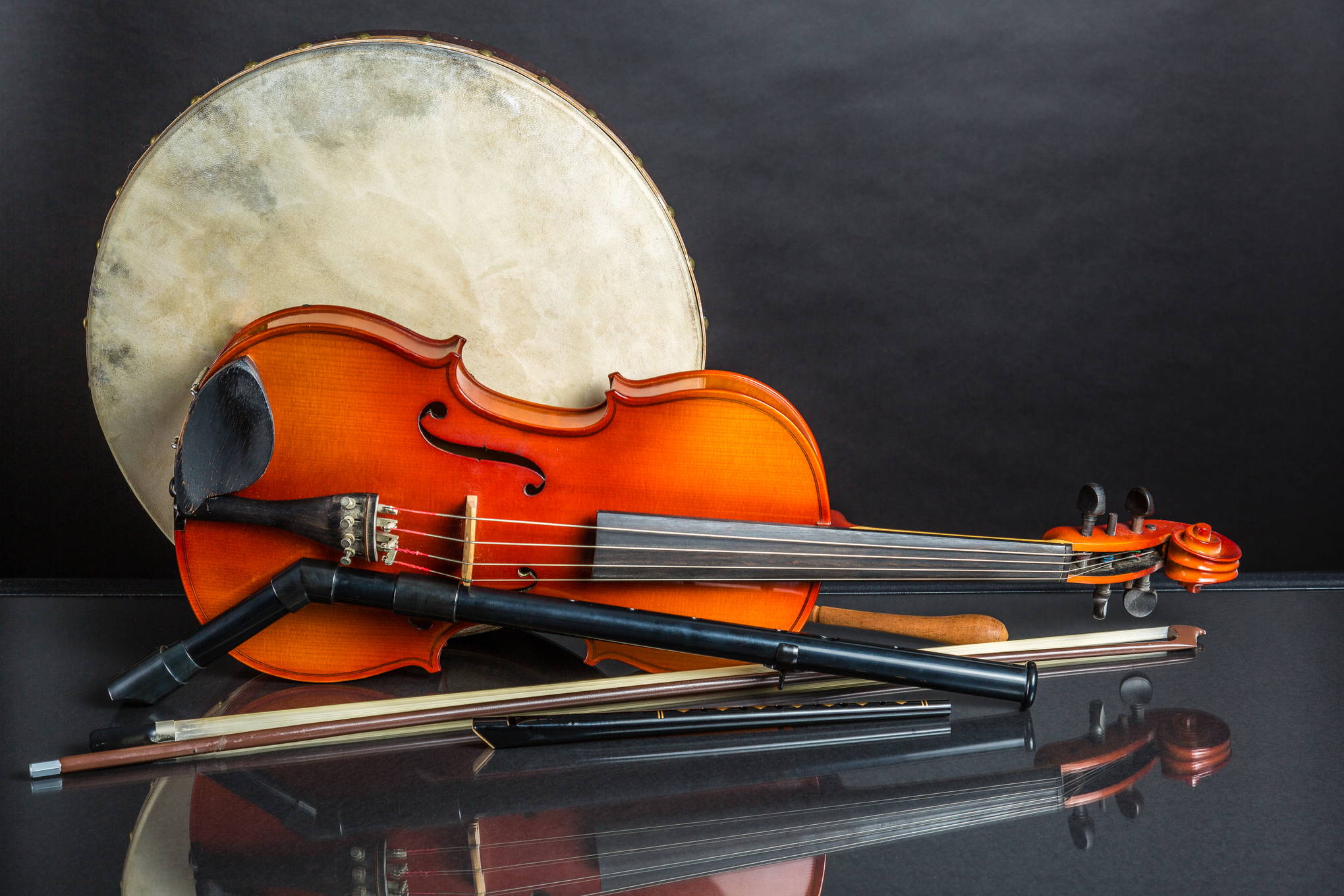 Raise Your Glass To The Drinking Songs
After the parade, head over to the local public house for a traditional lunch of corned beef and cabbage. Served with boiled potatoes, carrots, and a spicy mustard to give it a little kick, this "stick to your ribs" meal will keep you going for those rounds of traditional jigs and reels the talented musicians will be tripping through. Enjoy a glass of Guinness Stout to wet your whistle so you can sing along.
Don't be surprised to find a large gathering of musicians at the pub. A full Irish seisiun (se-shoon or session) typically includes fiddles, tin whistles, accordions, uilleann pipes (small Irish parlor pipes), and bodhrans (round drums) along with vocal talent. These musicians come together to perform jigs, reels, and hornpipes. Many of these songs are paired into sets of two or three songs with the tunes seamlessly blending one into the next.
Irish drinking songs will also likely make an appearance. Whiskey in the Jar, Black Velvet Band, and Irish Rover are just a few of the many you'll hear. And don't forget Danny Boy!
---
At the end of the evening, relax with a warming Irish Coffee and listen to some tall tales about the wee folk. The story of how the Irish Coffee cocktail came to be is fitting for a country that produces myths, legends, and other fantastic tales.
Created by chef Joe Sheridan at Foynes Airbase near Limerick, Ireland, the Irish coffee was meant to warm up weary travelers who were turned back to the airbase in the winter of 1943. When an American asked if it was a Brazilian coffee, Chef Joe answered, "No, it's an Irish coffee."
The Irish Coffee crossed the Atlantic via a travel writer and landed in San Francisco at the Buena Vista Hotel. Bartender Fred Koeppler recreated it as best he could. He even flew to Ireland to learn from the master!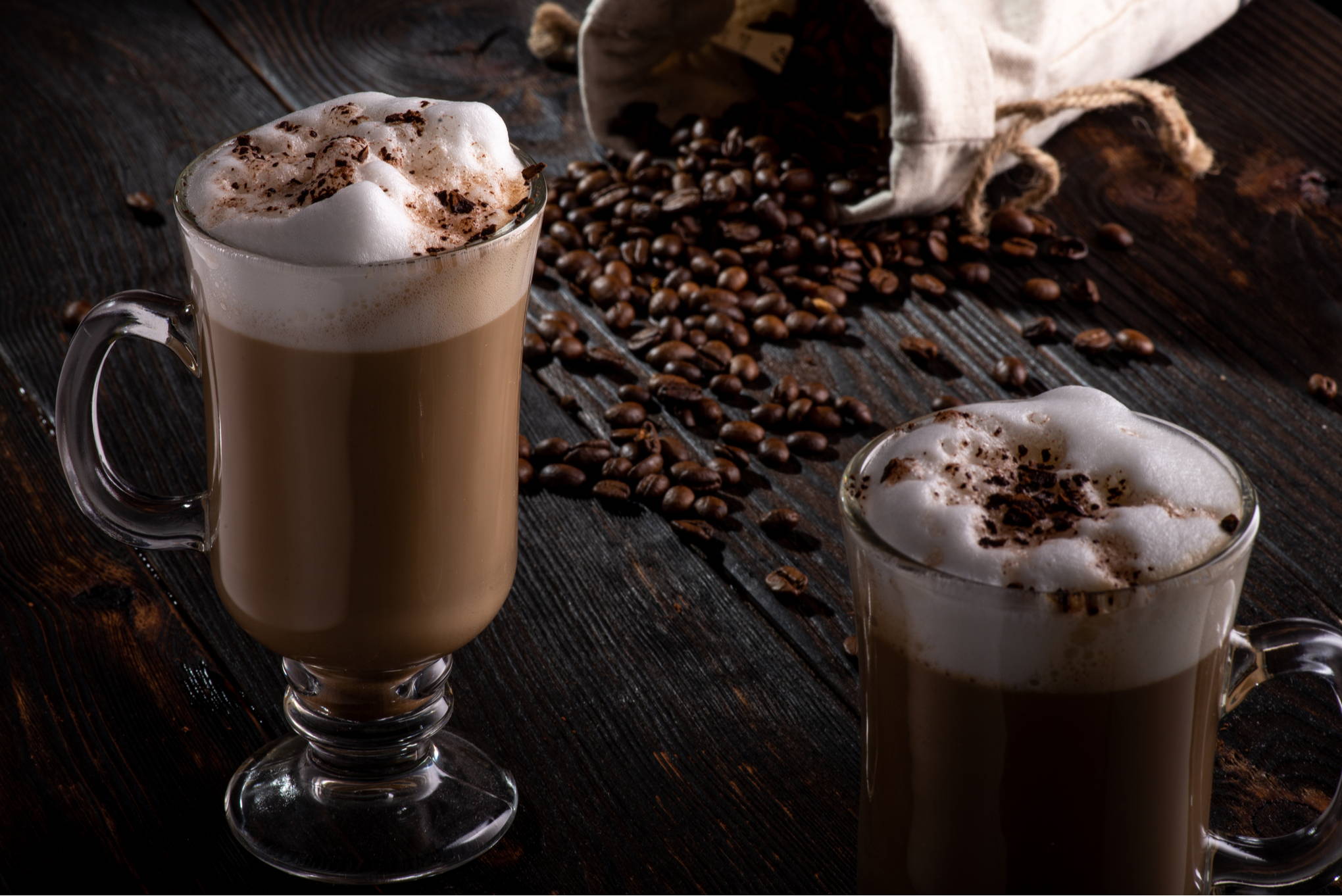 Cream - Rich as an Irish Brogue
Coffee - Strong as a Friendly Hand
Sugar - Sweet as the tongue of a Rogue
Whiskey - Smooth as the Wit of the Land
-Chef Joe Sheridan
The Irish Coffee is a tasty cocktail that is easy to make. Use our Organic Espresso when making your Irish Coffee to ensure a flavorful brew that holds its own with the whiskey.
INGREDIENTS
1 cup freshly brewed coffee
1 tablespoon brown sugar
1 1/2 ounces Irish whiskey
Heavy cream, freshly whipped
INSTRUCTIONS
Add coffee to warmed footed mug (a regular mug will do). Add brown sugar and stir until dissolved. Add Irish whiskey and blend. Top with whipped cream (pour slowly over back of spoon to create the layered look).
---
For a sweet treat to enjoy with your Irish Breakfast Tea, your Irish Coffee, or any of our delicious St. Patrick's Day Flavored Coffees, try this Irish Soda Bread recipe:
INGREDIENTS
4 cups of flour
1 tablespoon sugar
1 teaspoon salt
1 teaspoon baking soda
4 tablespoon butter
1 cup raisins
1 egg, lightly beaten
1 3/4 cups buttermilk
INSTRUCTIONS
Preheat oven to 425°F. In a large mixing bowl, whisk together flour, sugar, salt, and baking soda. Work the butter into the flour mixture with your hands or a pastry blender until it resembles coarse meal. Add in the raisins. Add egg and buttermilk and mix with a wooden spoon until dough is too stiff to stir. Gently knead dough with your lightly floured hands until you form a ball. If the dough is too sticky, add a little more flour. Don't over-knead!
Transfer dough to a lightly floured surface and shape into a round loaf. Transfer dough to a large, lightly greased cast-iron skillet, bread pan, or baking sheet. Score an "X" into the top of dough about an inch deep to help cook the loaf through.
Bake at 425°F until bread is golden, about 35-45 minutes. (If you use a cast iron pan, it may take a little longer as it takes longer for the pan to heat up.) Check for doneness by inserting a long, thin skewer into the center. If it comes out clean, it's done.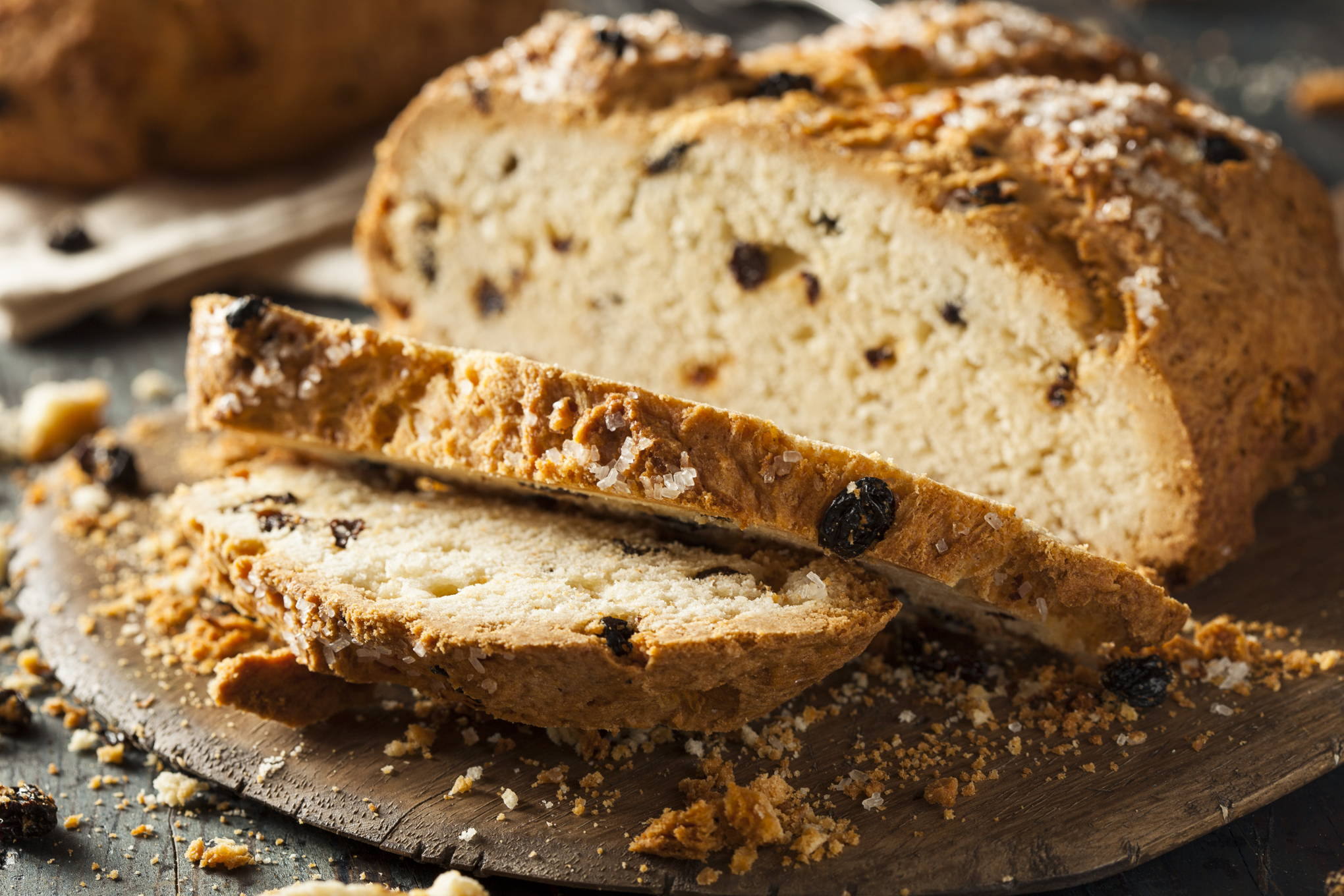 Remove pan from oven and let bread sit for 5-10 minutes then remove to a rack to cool briefly. Serve bread warm, at room temperature, or sliced and toasted. Best eaten right from the oven with a smear of Irish butter.