Cafe@Home
for the Holidays

This holiday season, Cafe@Home for the Holidays is here to help you prepare for the festivities...
---
This week, Cafe@Home for the Holidays is bringing you menu ideas, recipes, and more to make Thanksgiving Day delicious.
Don't miss out on our Great Coffees to serve at Thanksgiving!
Hit play on this Autumn Tracks Spotify playlist and get into the spirit of the season.
---

---
---
Start Planning for Turkey Day

---
Whether you're hosting Thanksgiving, heading to friends or family, or having a quiet celebration at home, preparing for the big feast can be a little daunting. This week, our Cafe@Home for the Holidays is here to keep you on track and share a few of our team's favorite holiday recipes.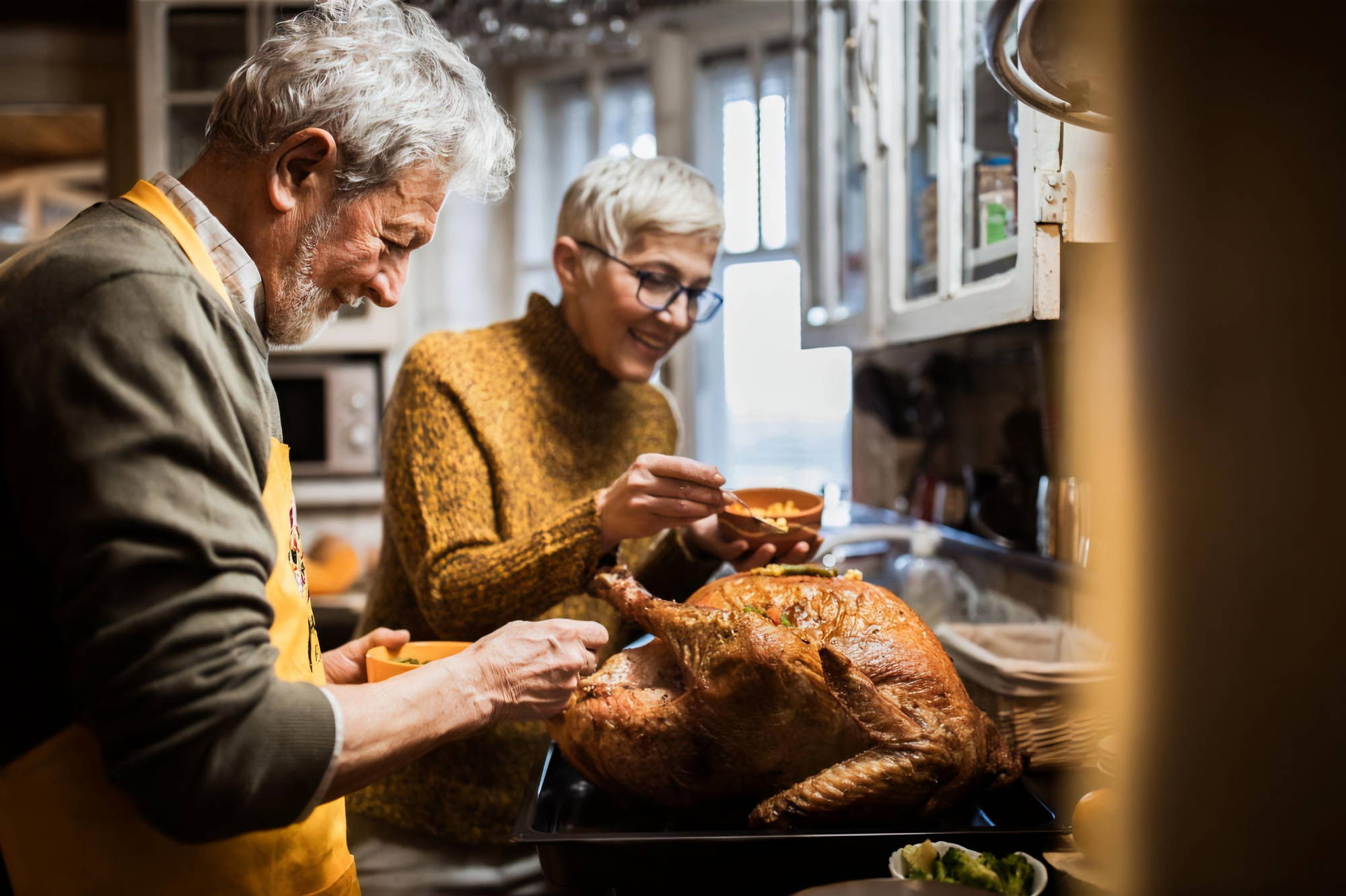 ---

This Thanksgiving you can stick with the classics or try something different.
Tradition is great, but there's something to be said for adding in a unique twist here and there.
Here are a couple of menu ideas with some alternatives for those who want to mix it up a little bit.
Oven-roasted Turkey
Turkey Gravy
Mashed Potatoes
Stuffing (or Dressing)
Green Bean Casserole
Sweet Potato Casserole
Cranberry Sauce (canned or fresh)
Yeast Rolls
Candied Yams
Baked Sweet Potatoes
Cornbread Stuffing
Potato Rolls
Roasted Vegetables
---
Stuffed Mushrooms
Pigs in a Blanket
Baked Brie
Cheese Ball
Veggie Dip
Spinach Dip
Veggie Platter
---
Pumpkin Pie
Apple Lattice Pie
Pecan Pie
Apple Cranberry Cobbler
Gingerbread Cake with Cinnamon Maple Glaze
Almond Biscotti
---
Biscuit and Gravy Skillet
Sweet Potato Bites
Spinach Spanakopita
Pumpkin Pie Dip
Apple Chips
Bacon-Wrapped Pickles
Bacon-Wrapped Sweet Potato Fries
---
---
Serve Something Different This Thanksgiving

Biscuits and Gravy Skillet

Serve this fun and delicious breakfast appetizers to your early birds. It's perfect with a cup of New World Blend.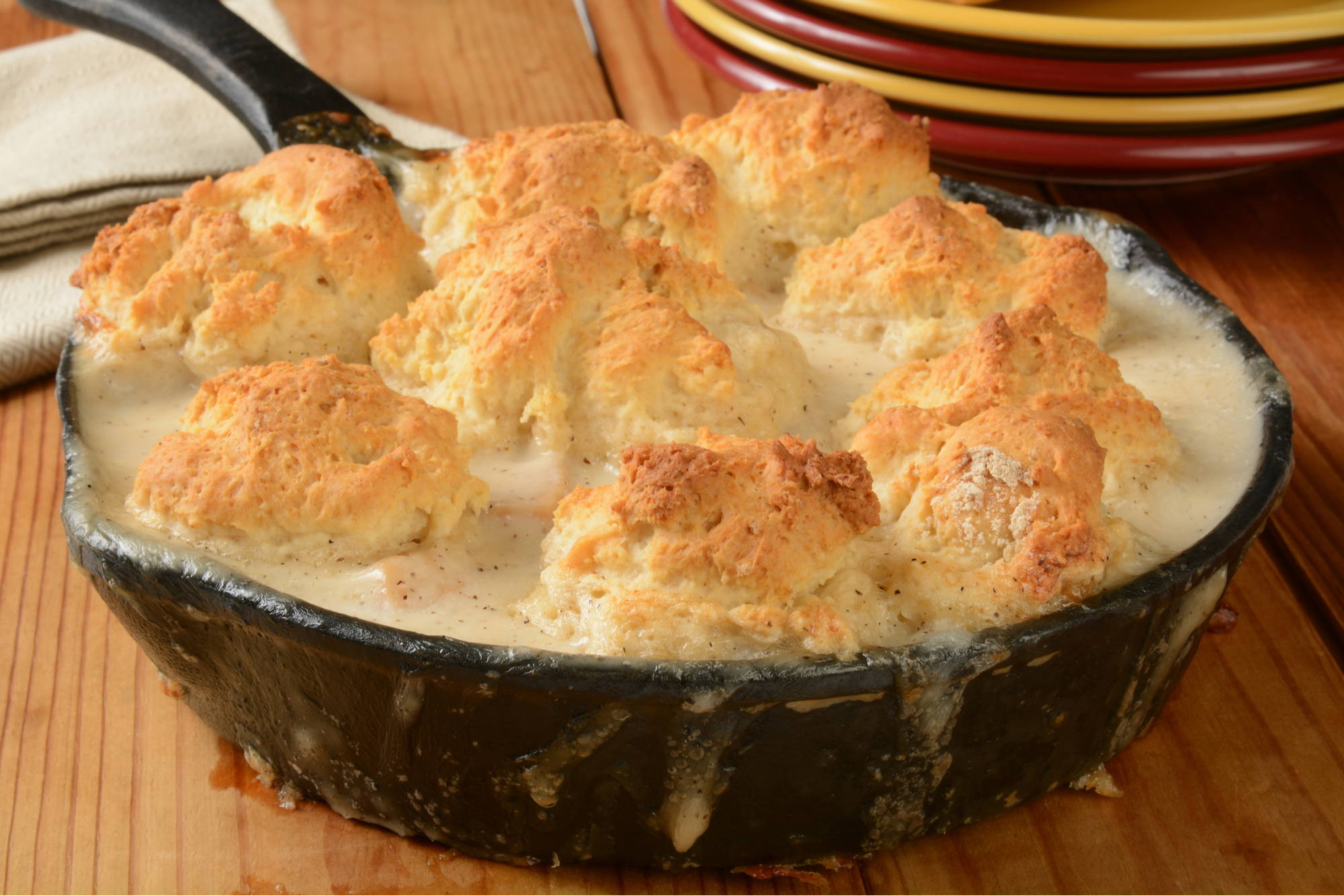 INGREDIENTS
1/2 Pound Pork Sausage, ground
1/4 Cup All-purpose Flour
2 Cups Milk
Salt, to taste
Freshly Ground Black Pepper, to taste
Pinch Cayenne Pepper, optional
1 Can Refrigerated Biscuit Dough
Egg wash
1 Tbsp Chopped Fresh Parsley, garnish
INSTRUCTIONS
Preheat oven to 350 F. Grease 10" cast iron skillet. Cook sausage over medium heat until browned and cooked through. Sprinkle flour over sausage and cook for about a minute. Add milk and bring to a boil. Reduce heat and simmer until very thick, about 5 minutes. Season to taste with salt, pepper, and cayenne. Remove from heat.
Open the can of biscuits and separate. Cut each biscuit in half and roll each half into a ball. Place around the perimeter of cast iron skillet to form a ring. Make sure the biscuit pieces are touching. Add gravy to the center of the biscuit ring.
Bake for 25-30 minutes until the biscuits are golden. Garnish with fresh parsley and serve warm.
---
INGREDIENTS
2/3 Cup Sugar
1/3 Cup Light Brown Sugar, tightly packed
1/3 Cup Water
2/3 Cup Orange Juice
12 Ounce Bag -Cranberries, rinsed and picked through - removing bad/bruised cranberries
INSTRUCTIONS
Combine sugars, water, and orange juice in a medium-sized saucepan over medium heat. Stir occasionally until sugars dissolve. Add cranberries and return to a boil. Reduce heat and simmer, stirring occasionally. Cook cranberries 10-15 minutes or until all or most of the berries have burst and the mixture is slightly reduced. Be careful as the bursting berries may splatter. The longer the cranberries cook, the thicker the mixture will be. The cranberry sauce will also thicken after sitting.
Transfer the mixture to a bowl and allow to cool for at least 20 minutes at room temperature. Cover and refrigerate at least 2 hours before serving.
There's nothing wrong with canned cranberry sauce, but why not try homemade whole cranberry sauce? This tart, sweet jam-like sauce is sure to keep those taste buds tingling.
---
This is the perfect accompaniment to go along with those tasty CoffeeAM coffees.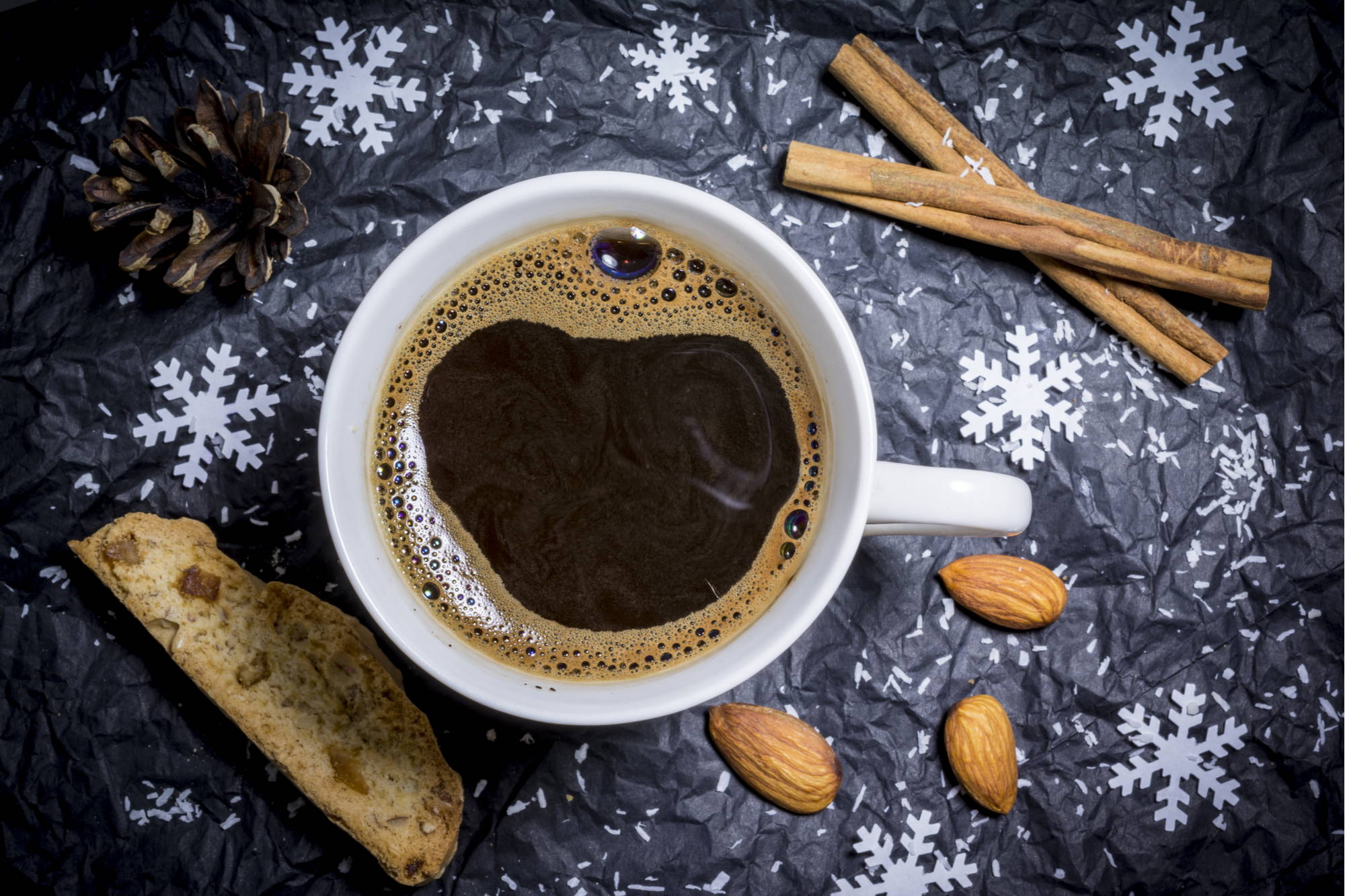 INGREDIENTS
1/3 Cup Slivered Almonds
2 Eggs, room temperature
3/4 Cup Brown Sugar
1/4 Cup Almond Oil*
1/2 Teaspoon Vanilla Extract
1/2 Teaspoon Lemon Zest (about 1/2 of lemon)1 + 1/2 Cups All-purpose Flour
1 Teaspoon Baking Powder
1 Cup Almond Flour (or ground almonds)
* If you don't have almond oil, combine 1/4 Cup Olive Oil and 1 + 1/4 Teaspoon Almond Extract
INSTRUCTIONS
Preheat oven to 375ºF. Line baking sheet with parchment paper. Toast almonds in large non-stick skillet over medium-high heat for 5-7 minutes. Watch closely and remove from heat when light brown. Be careful not to burn them. In a medium bowl, combine eggs and brown sugar. Beat together with an electric mixer on medium speed, until light and fluffy, about 2 minutes. Add oil, vanilla, and lemon zest and beat for another minute.
In large bowl, sift flour and baking powder together. Add almond flour and stir to combine. Gradually stir in wet ingredients until just combined. Fold in toasted almonds. Mix dough with hands until it holds together but is still slightly sticky.
Transfer dough onto lightly floured surface and shape into a rectangular log. Lightly flour a rolling pin and roll the dough into a rectangle measuring 10 inches x 6 inches, and 1/4 inch thick. Transfer to parchment-lined baking sheet and bake for 20 minutes or until golden brown.
Remove from oven and allow to cool in pan until able to handle, about 10 minutes. Transfer log to cutting board and use knife to cut into 1 inch slices, crosswise. You should have about 10 to 12 slices, depending on how thick the log is.
Place the biscotti (standing up) back on lined baking tray and bake for another 8 minutes. Remove from oven and flip biscotti over. Bake for 6-7 minutes more until crisp and golden.
Allow biscotti to cool before serving.