Cafe@Home
for the Holidays
---
This holiday season, Cafe@Home for the Holidays is here to help you prepare for the festivities...
---
Shop and Ship for the Holidays
Due to expected shipping delays, please place your orders early this season to ensure your loved ones receive their gifts in time for the holidays.
CoffeeAM is not responsible for delays experienced by postal and shipping carriers. Be sure to allow ample time for your gifts to arrive.
---
---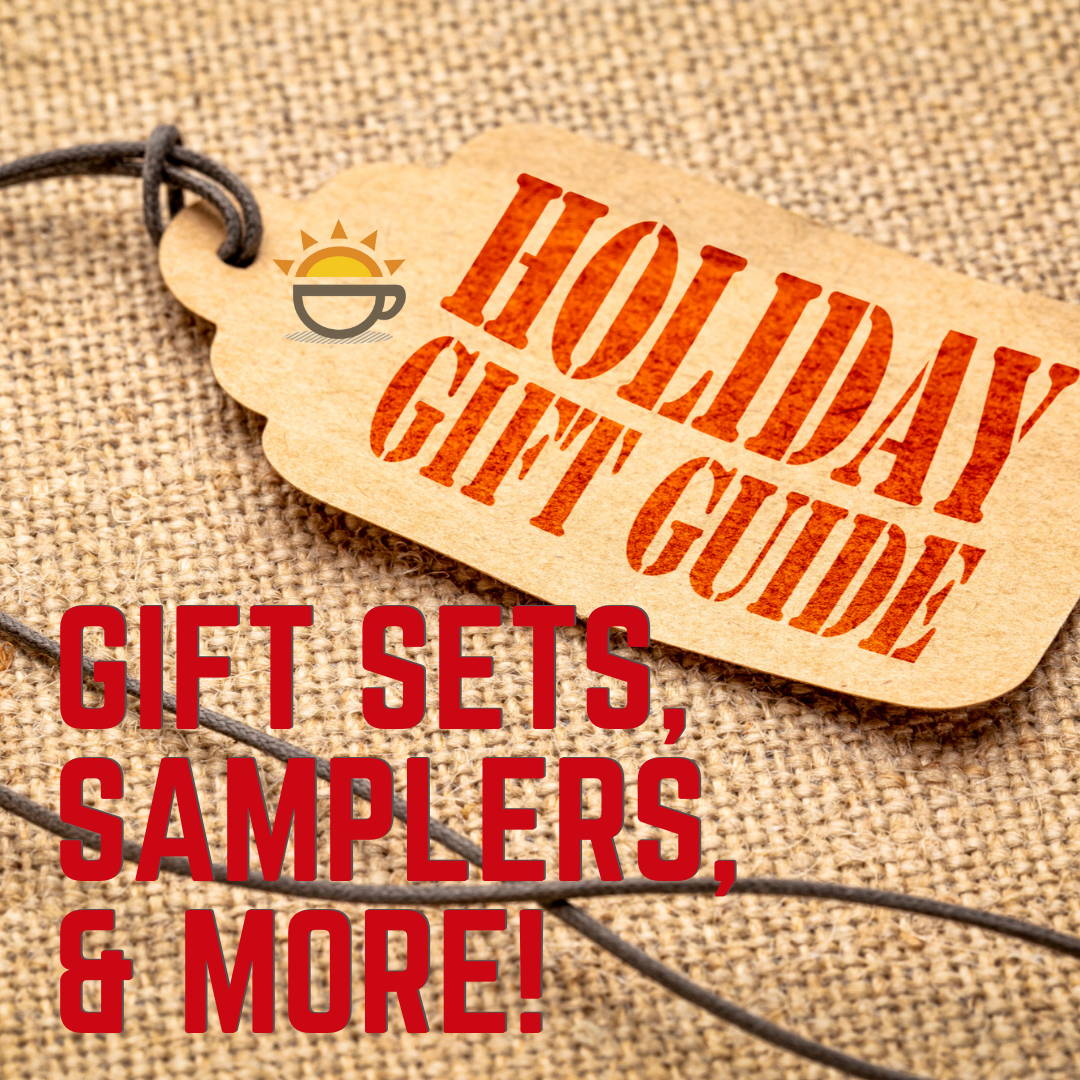 Enjoy CoffeeAM's Holiday Spotify Playlists:
---
---
---
This week, Cafe@Home for the Holidays has put together our Holiday Gift Guides featuring our
Gift Sets, Samplers, and more!
Hit play on this Christmas Shopping Spotify playlist and get into the spirit of the season.
---
---
Check Out Our Holiday Gift Guides
Our gift sets and samplers have been designed to appeal to a wide range of tastes and price points. Whether your recipient prefers single-origins or blends, regular or decaf, flavored coffees or teas, we have plenty to choose from.
---
Our Holiday Gift Ideas include single coffees, samplers, and gift sets. Choose what works best for your budget and your recipients. And remember, it's always the thought that counts!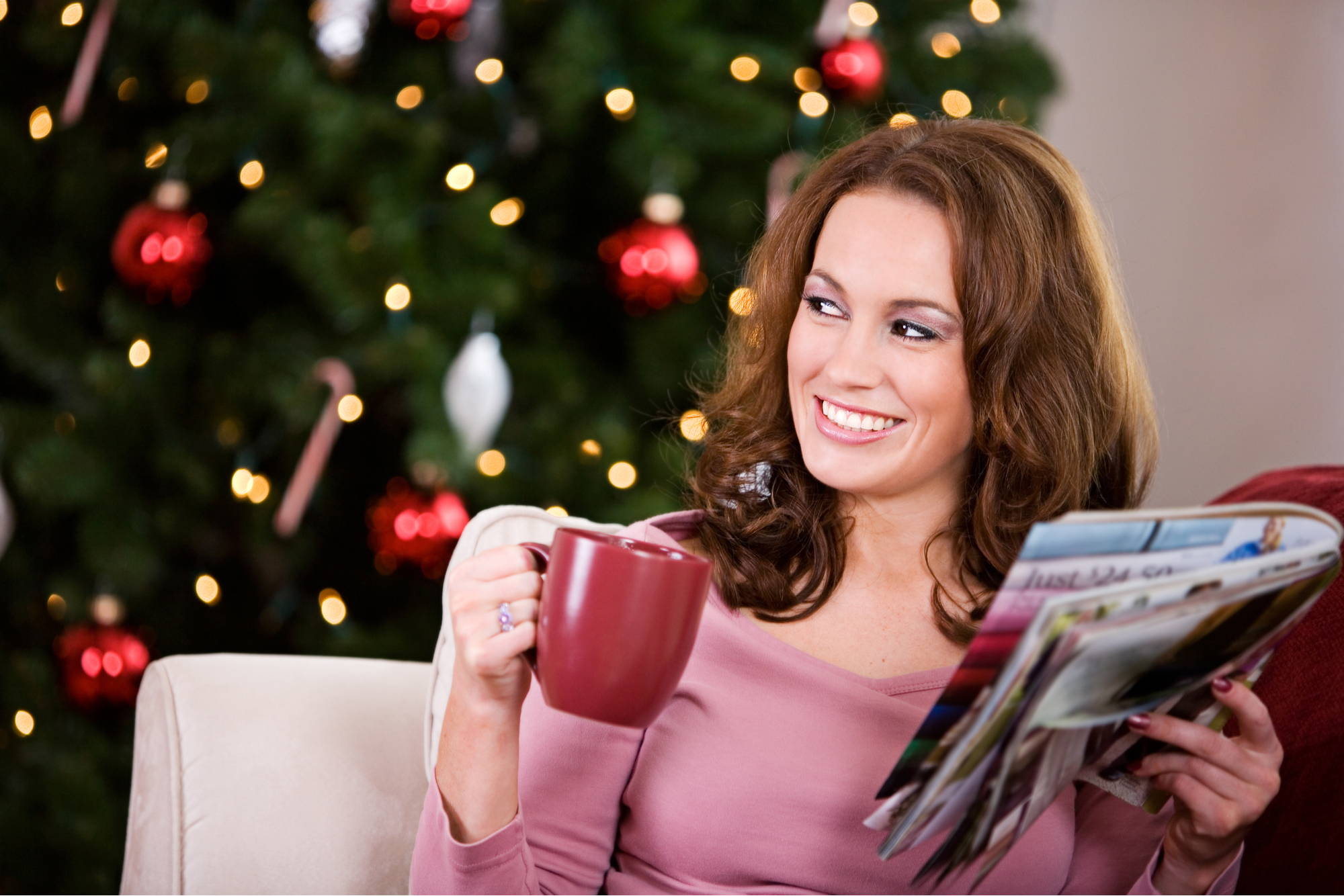 ---
---
Our gifts under $20 are ideal for stocking stuffers, clients, vendors, teachers, tutors, service providers, or anyone you want to give a little something to. Choose from flavored coffees, blends, and more.
---
We've designed our 12 Coffees of Christmas to include a dozen coffees with holiday-inspired flavors, high-quality blends, and presented in Christmas-y bags to surprise and delight. Personalize each bag for your recipients to make them an exclusive gift just for them. Choose something spicy like Nutmeg Spice, Pumpkin Spice, Old-Fashioned Gingerbread, and Peppermint. If nutty coffees are more their thing, our Reindeer Crunch is an extremely popular choice along with Pecan Pie. Choose our heady Egg Nog and Jack Frost for something with a guilt-free kick. Our Mistletoe Joe is perfect for those who love chocolate. For something non-flavored, our Lump of Coal French Roast, our Christmas Blend, and our Jamaica Blue Mountain Blend are ideal. If your recipients' tastes run to the high-end, give them our Jamaica Blue Mountain Reserve, our Jamaica Blue Mountain Organic Blend, or our Hawaiian Kona Reserve Blend. And for something completely unique, our Ancient Tea Brick has a storied history that is as interesting as it is delicious. And for sipping their favorite coffees, add a CoffeeAM logo mug!
---
---
---
Our gifts under $50 (but over $20) include some of our best-selling samplers and gift sets.
For flavored coffee fans, choose our Happy Hour Sampler, our Thanksgiving or Fall Flavored Sampler, our Gourmet Flavored Sampler, our Exotic Flavored Coffee Sampler, our Holiday Flavored Sampler, or our 12 Coffees of Christmas Gift Set. If their go-to is chocolate, give them the Chocolate Lover's Gift Set. If their tastes lean more to the single-origin, our highly popular regional samplers are the way to go. Give them our African Coffee Sampler, our Central American Coffee Sampler, our Indonesian Coffee Sampler, our South American Coffee Sampler. If you can't decide on one region, our Regional Tour includes coffees from each of our four coffee-growing regions, or our World Tour Coffee Sampler and our Globe Trotter Sampler both stretch even further. For those whose tastes run to the unique, give our Cuvee Coffee Collection.
---
For tea lovers, our Gourmet Tea Sampler has eight teas and tisanes to sample along with an infuser to steep them. For the eco and health-conscious, our Organic Coffee Sampler is ideal. Espresso lovers will enjoy our Espresso Sampler or our Decaf Espresso Sampler. Give something a little more exclusive with our Hawaiian Kona 'Volcanic Estate' or our Jamaica Blue Mountain Estate. For those who like both coffee and tea (and more), our Something for Everyone Sampler has coffee, tea, hot cocoa, and a CoffeeAM mug to enjoy it all. For those who are expanding their coffee knowledge, our Home French Press Kit is sure to be a welcome gift. And finally, for those who love a little whimsy at the holidays, give them our Santa Pants Gift Set.
---
---
Our gifts over $50 are ideal for true coffee connoisseurs, high-end clients, the office, or for those gatherings with all your loved ones.
---
Choose our Bodum Pourover Coffee Kit for someone who likes to linger over their morning coffee. Our Basket of Joy has something for everyone with coffee, tea, hot cocoa, and a Jamaican Rum cake to nibble on. The French Press Deluxe Set features a pond each of our Jamaica Blue Mountain Reserve Blend and our Hawaiian Kona Reserve Blend. Our Jamaica and Kona Coffee Gift Set are for those with discerning taste, featuring our Grade 1 Jamaica Blue Mountain and our Hawaiian Kona. Choose our Paradise Package Coffee Collection for a half-pound each of some of our most popular high-end coffees. Chocolate fans won't be able to get enough of our Deluxe Chocolate Lovers Gift Set with a dozen of our best chocolate flavored brews. Their afternoon tea will never be the same with our Deluxe Gourmet Tea Set. Make their holidays jolly and bright with our Deluxe 12 Coffees of Christmas with half-pounds of each of our holiday coffee flavors. And last but certainly not least, our French Press Coffee & Tea Gift Set will bring a level of sophistication to their morning or afternoon coffee breaks.
---