Cafe@Home
for the Holidays
---
This holiday season, Cafe@Home for the Holidays is here to help you prepare for the festivities...
---
Shop and Ship for the Holidays
Due to expected shipping delays, please place your orders early this season to ensure your loved ones receive their gifts in time for the holidays.
CoffeeAM is not responsible for delays experienced by postal and shipping carriers. Be sure to allow ample time for your gifts to arrive.
---
---
---
Christmas will be here before you know it. Are your decorations up? Did you send the Christmas cards? Have you finished your gift shopping?
Oh my gosh, what about the guest bedroom for Aunt Phyllis? As wonderful as the holidays are, they can be stressful.
Hit play on this Christmas Movie Soundtrack Spotify playlist and take a look at these checklists to help you countdown to Christmas with a smile.
---
---
Christmas is only two and a half weeks away! Are you ready? We've put together a Christmas To-Do List to help you stay on track (or hop back on it) along with some tips and tricks to enjoying the holiday more.
---
We're already in this sweet spot. There may be some items you "should" have already done by this point. But don't worry! We have a couple ideas to help you take care of those. (see below)
Decorate

Tree

Outdoor lights and decorations

Indoor decorations

Front door wreath

Finalize your Christmas Eve and Christmas Day menus

Make your shopping list

Shop for non-perishable items (canned goods, pantry items, alcohol)

Ship out-of-town gifts

Letters to Santa

Last minute gifts

Stocking stuffers

Hairdresser

Manicurist

Barber

Mail carrier

Delivery drivers

Teachers

Housekeeper

Landscaper

Babysitter

Secret Santa / White Elephant

Kids' visit with Santa

Set up in-person or virtual visits with

Santa

Mrs. Claus

The Grinch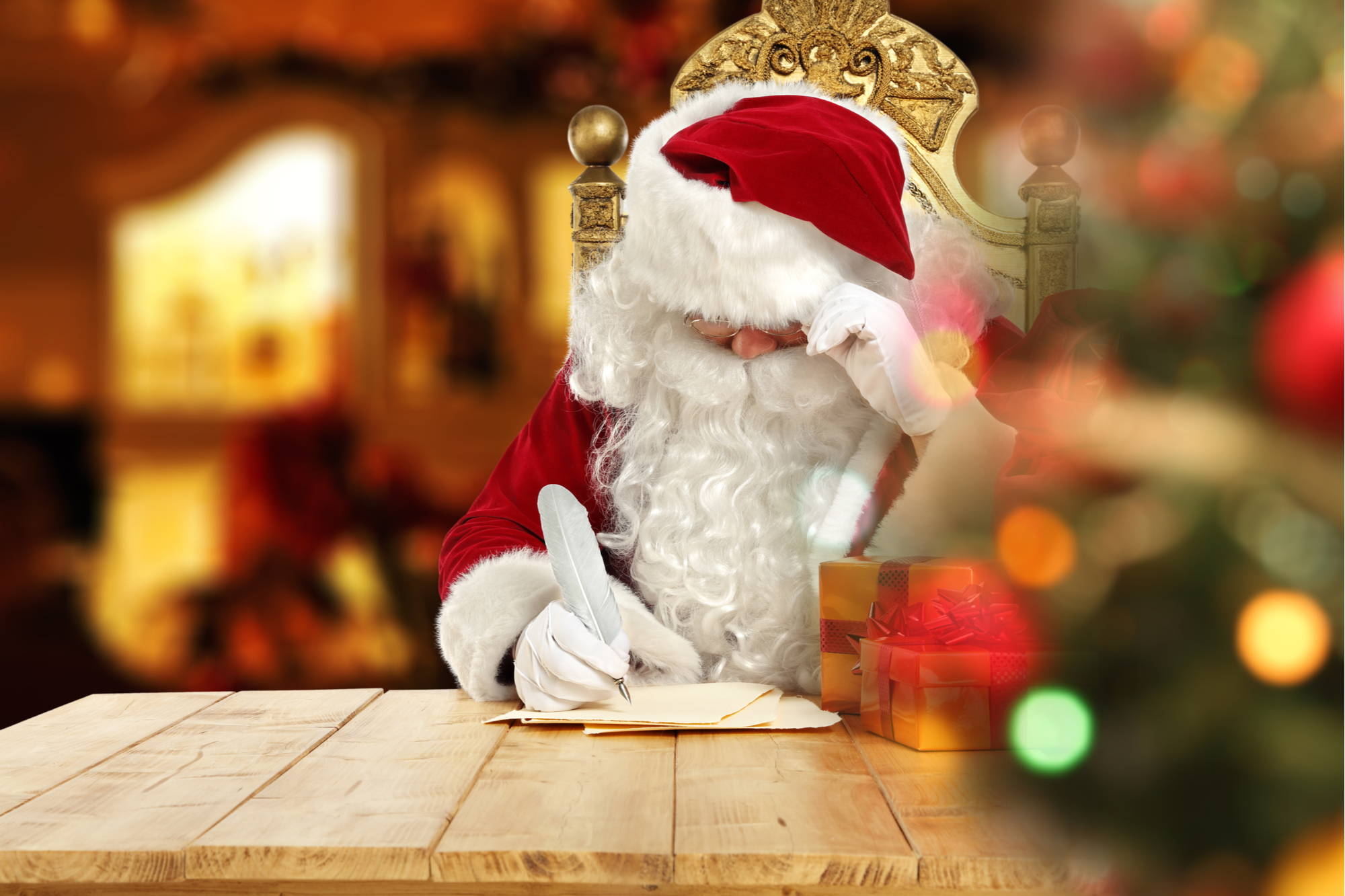 ---
---
---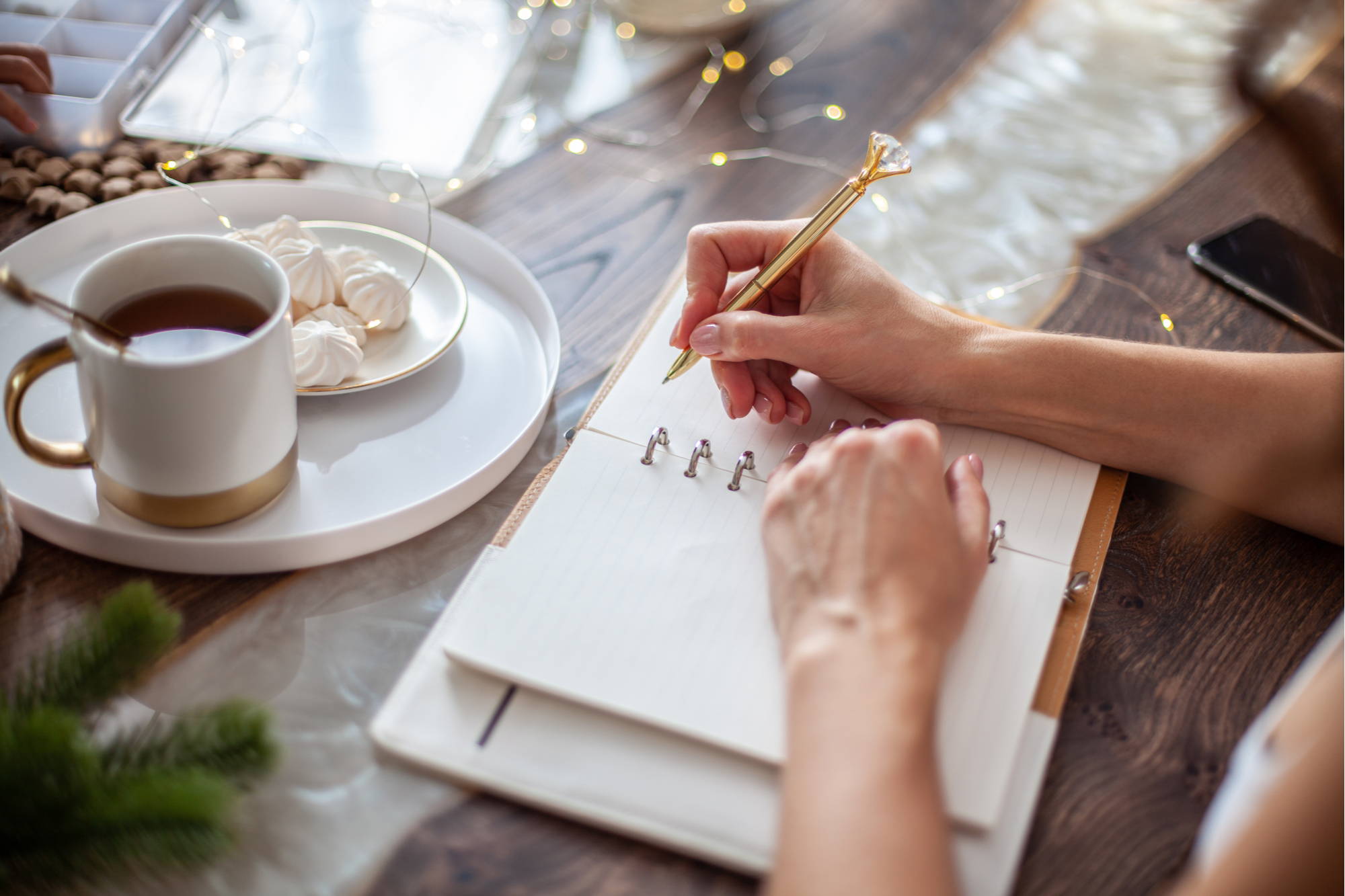 The big day is almost here! Be sure to enlist the help of everyone in the house and put them to work doing what they do best.
Make Christmas Day Agenda and Share

Clean the house

Dust

Sweep, mop, vacuum

Prepare the guest room (see ideas below)

Clean the refrigerator

Buy last-minute necessities

Batteries

Toothbrushes

Travel size bath and beauty products

Aspirin/Tylenol/Advil/Motrin/Midol

Activities to keep the kids occupied

Gift cards

Thank you cards

Non-Santa gifts under the tree

Christmas centerpiece

Choose Christmas Day wardrobe
---
---
Make your holiday guests feel like their staying in a 5 Diamond resort! Here's how:
Make up the bed with clean sheets

Add small decorations to the room like

Small Christmas tree

Poinsettia plant

Wreath

Basket of toiletries

Shampoo and conditioner

Body wash

Bath pouf

Toothpaste

Lotion
Bottle of wine and glasses

Small snacks

Granola bars

Potato chips

Cookies

Fruit

Single-serve coffee maker
---
---
The kids are chomping at the bit and you're probably exhausted but still excited. We're almost there. Let's get through these last few days!
Shop for Fresh Ingredients

Vegetables

Fruits

Dairy items

If you have a separate dining table, go ahead and set it

If you'll be using the dining table but have a sideboard or some other "staging area", stack the china, silverware, glassware, and linens together to make it easy to set the table later

Make guest bedroom for guests.
---
Defrost any frozen foods

Prep your mise en place (if it can sit for a couple of days)

Purchase fresh flowers

Make (or find) your Christmas music playlist

Make Christmas Day breakfast (see recipe below)
---
Finish wrapping last-minute gifts

Finish cooking what you can the day before

Hang Christmas Stockings

Charge camera battery

Clean fireplace and set logs

Leave out cookies and milk

Track Santa

Tuck the kids in and help Santa

Sit back and enjoy a cocktail, you deserve it!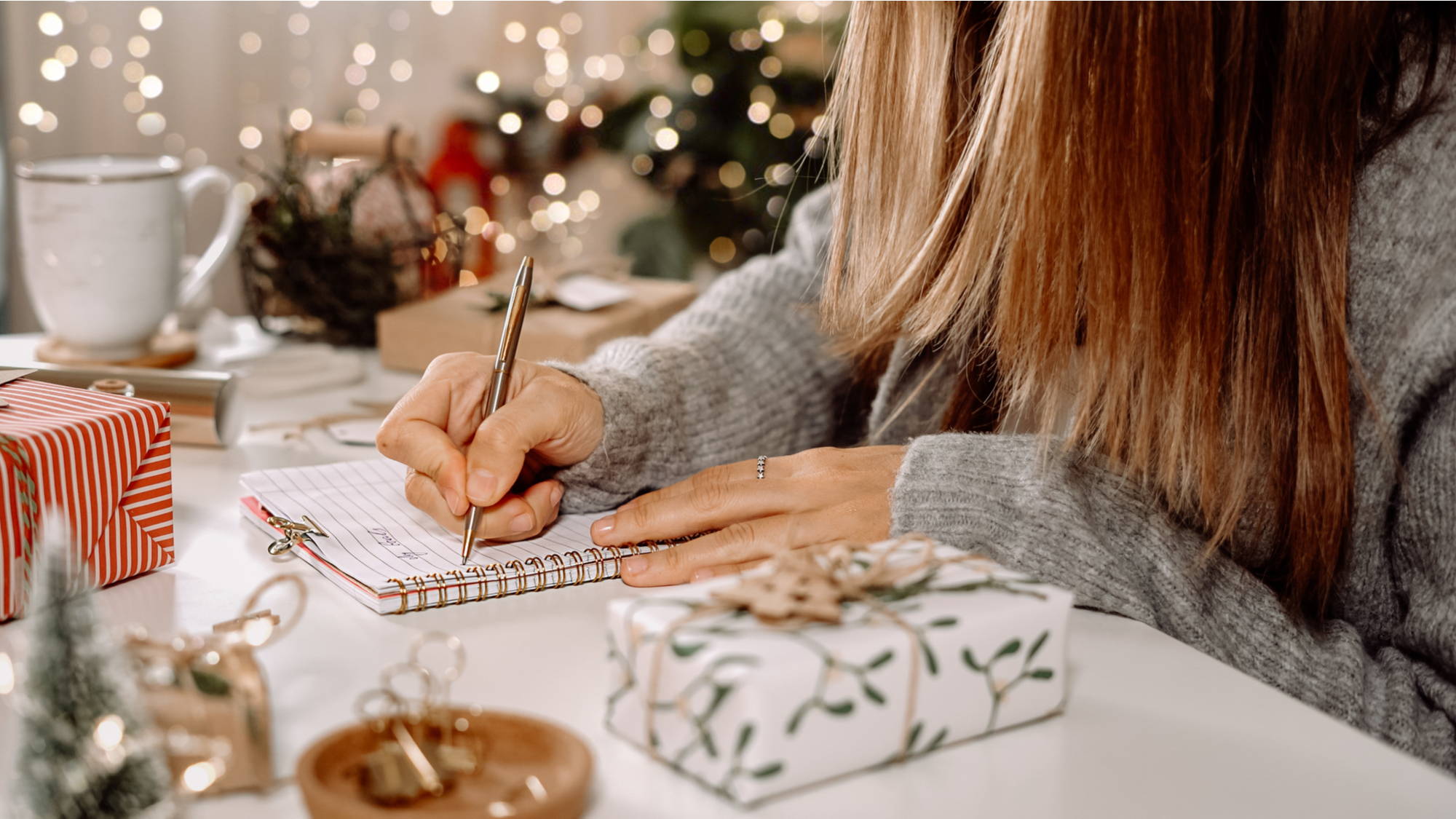 ---
INGREDIENTS
Package dinner rolls (in aluminum pan)
1/2 pound ham, thinly sliced
1/2 pound baby Swiss, thinly sliced
1 stick melted butter, unsalted
1 tablespoos yellow mustard
1/2 yellow onion, minced
INSTRUCTIONS
Pre-heat oven to 350 degrees F. Cut the dinner rolls in half so you have a half of tops and a half of bottoms. Leave the bottoms in the pan. Mix the butter, mustard, and onion together and smear on the inside of the bottoms and the tops. Place the ham on the bottoms. Layer the cheese on the ham. Place the tops on the Swiss. Cover with aluminum foil and bake for about 20 minutes or until everything is brown and melty. Cut the rolls through the lines and serve!
---
---
---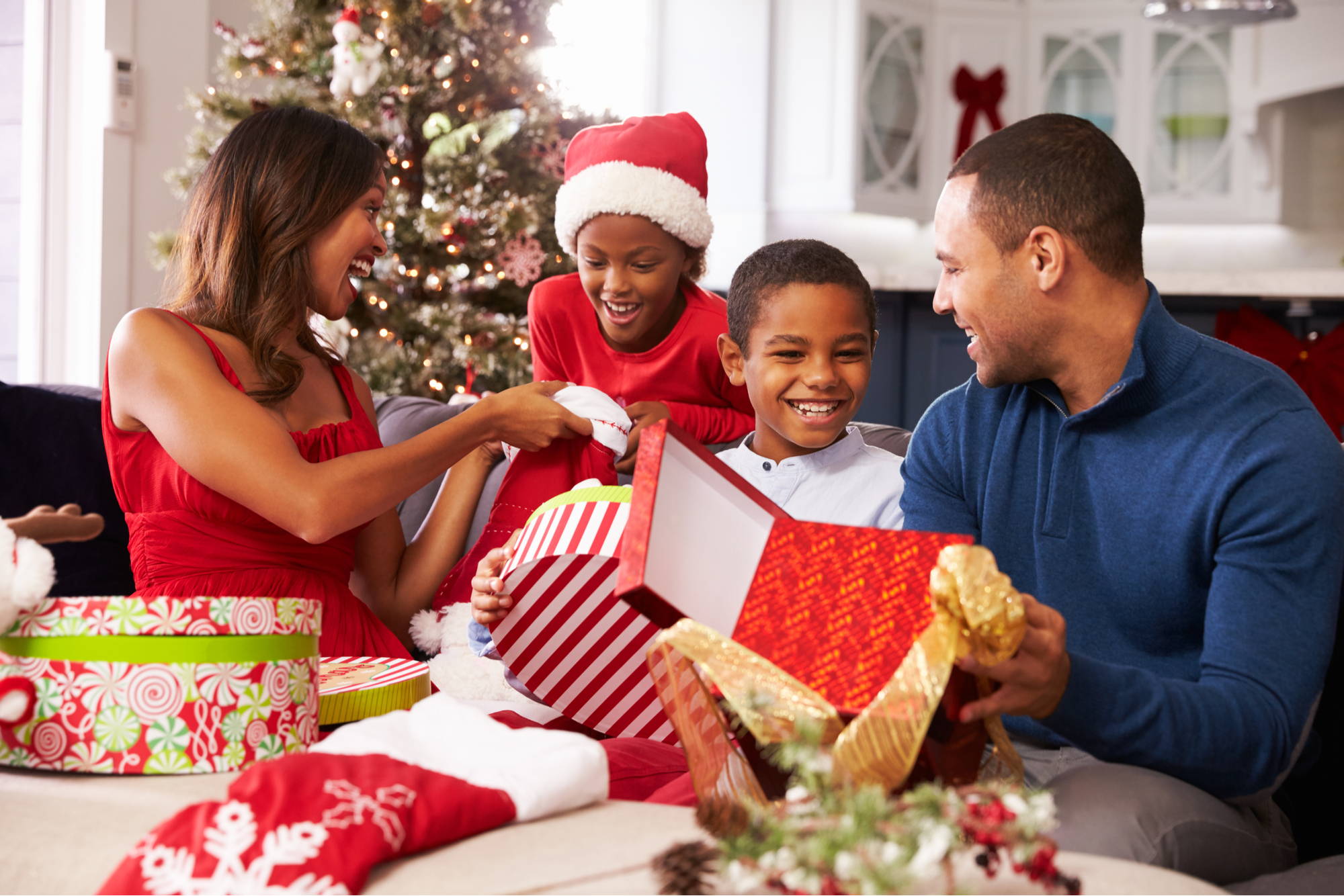 ---
Depending on your traditions, these will all be in varying order. Do what you do!
Open stockings

Open gifts

Cook breakfast

Call distant loved ones

Get dressed for company

Set the table

Start heating up and cooking dinner
---
Oops! Running out of time? Here are some shortcuts.
---
Use the grocers to pre-cook and pre-bake some of your foods

Find a wrapping service

Use the dry cleaners to do some of your laundry

Use online Christmas cards (American Greetings, Jib Jab, and Blue Mountain all have great cards)

Get the rest of the family in on the action!