Cafe@Home
for the Holidays

---
This holiday season, Cafe@Home for the Holidays is here to help you prepare for the festivities...
---
Shop and Ship for the Holidays
Due to expected shipping delays, please place your orders early this season to ensure your loved ones receive their gifts in time for the holidays.
CoffeeAM is not responsible for delays experienced by postal and shipping carriers. Be sure to allow ample time for your gifts to arrive.
---
---
---
Give them a gift from the heart with something handmade. This week, we're sharing homemade crafts using coffee beans, used coffee grounds, and coffee!
Hit play on this Home for the Holidays Spotify playlist and spend some time crafting with us.
---
---
---
Coffee beans make a unique and aromatic crafting medium. They can be glued onto items, used as filler, and added to things like candles. You can make your own gifts using coffee beans or add to your own holiday (and every day!) decor.T
The easiest way to craft with coffee beans is to use them as a filler. Make layered patterns by using beans with different roast levels including unroasted or green coffee beans. You could even spraypaint some of the beans. Projects you can make using this method include:
Vases for pine and holly sprigs, air plants, candles

Decorative dishes to hold elegant ornaments

Glass globe ornaments

Cute coffee mugs with votives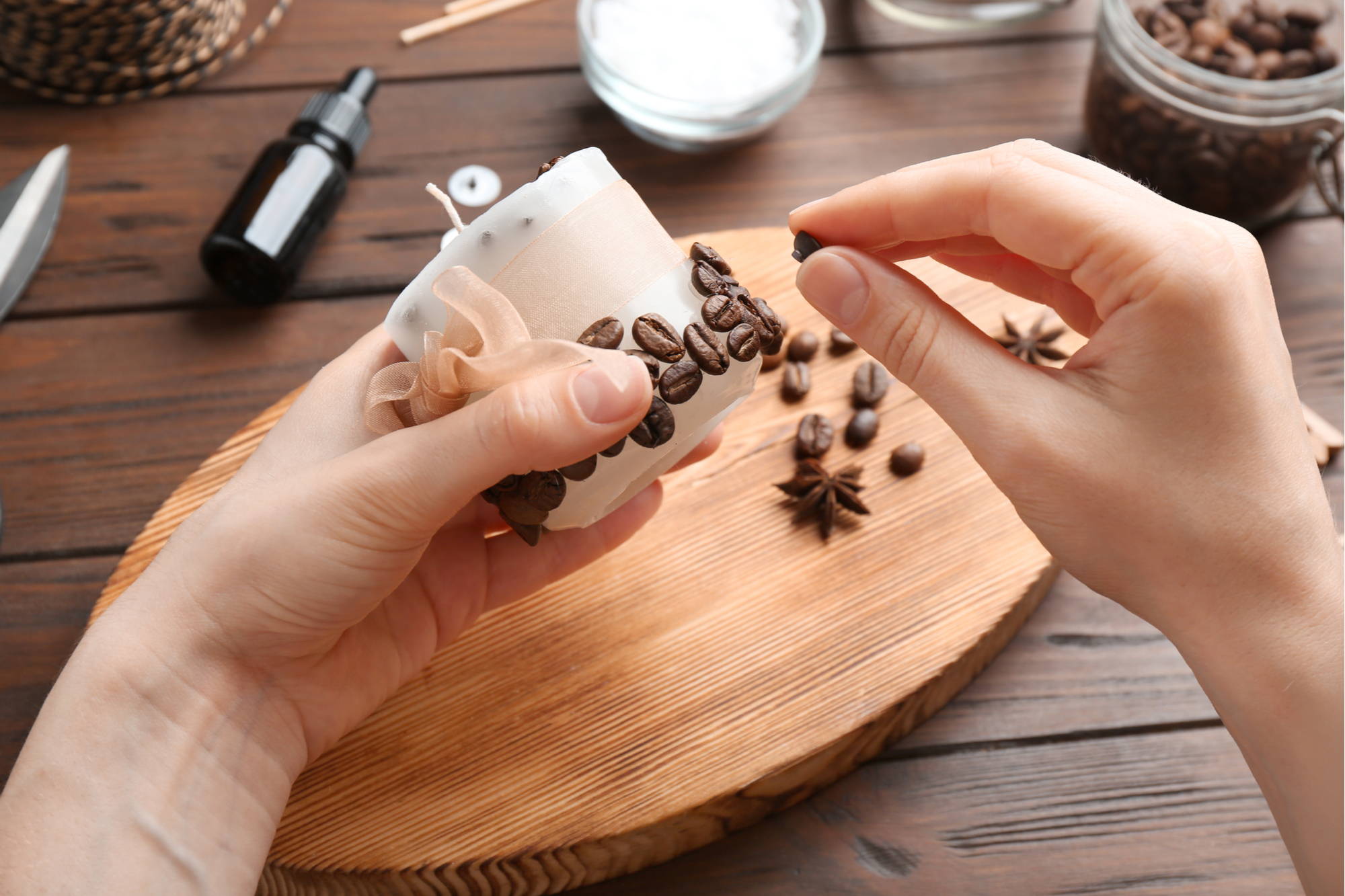 With a little more work and skill, you can add a glue gun to your toolset and glue coffee beans to items. These projects can include:
Foam Christmas tree molds

Flat wooden ornaments

Foam balls

Wreaths
Add more decorative elements to these decor items with star anise, cinnamon sticks, buttons, ribbon, jute, burlap, and lace. For larger pieces, add frosted pinecones, pine sprays, and sprigs of holly. You could even add real or faux winter flowers, dried fruit, or flowers to your designs.
If you've been crafting for a while, these more difficult projects might be more what you're looking for:
Candles covered with coffee beans

Candles made with coffee beans

Decorative mugs filled with coffee beans and resin
---
---
You can recycle your coffee grounds for crafts, too! Use the grounds in the same way you use the coffee beans.
Candleholder - fill with used grounds and fit a tealight candle into them.

Planter - in a small pot, fill two-thirds with potting soil and the rest with used coffee grounds for small plants

Coffee candle 1 - warm the sides of a wide store-bought pillar candle and roll in the used coffee grounds

Coffee candle 2 - make your own candle and add used grounds to the wax or to the sides of the candle form
You can also recycle used coffee grounds for beauty and relaxation. You can make the scrubs and other beauty items in this post and present them in beautiful containers.
---
---
Brewed coffee can also be used for decorative reasons. For the holidays, make coffee-stained wrapping paper for your coffee gifts. Simply brush coffee over the paper, dip the lip of a coffee mug in coffee and make rings, and slosh a little coffee onto the paper.
Use pre-cut gift tags and dip them in coffee, make rings with mugs, and drip coffee across them.
Choose thicker paper and, using the same methods, stain it and make notepaper, handmade journals, and other stationery pieces. Add a little extra interest to your coffee-stained paper by using salt, rice, noodles, and string to create interesting textures. While the coffee is still wet on the paper, add one of the texturizers, let it dry, then rub it off the paper.
In addition to paper, you can also stain fabric with coffee. Lace pieces, curtains, linens, and even lampshades, and other textiles take on an interesting look when coffee is used as a stain.
For artistic pieces, use coffee-stained watercolor paper, made the same way as the gift and stationery papers. Coffee can also be used as paint. The more concentrated the coffee, the more intense or darker it will be. Another interesting way to incorporate coffee into your art is to use spills and rings as a prompt to create drawings.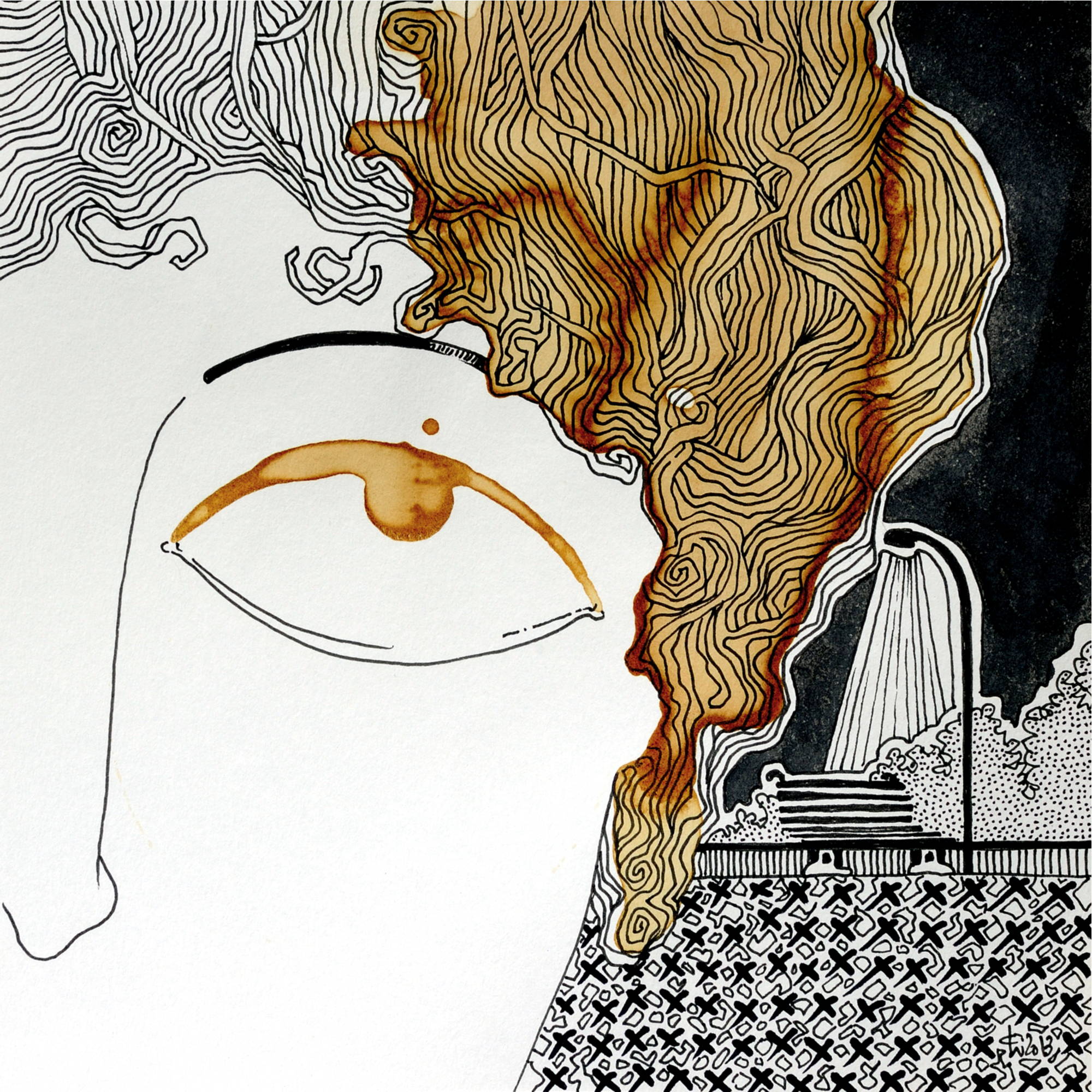 ---